Apprenticeship fair Montafon
The Montafon Apprenticeship Fair was the first of what are now several interconnected and complementary instruments in the Montafon Valley to attract future skilled workers and prevent emigration. It takes place once a year in the fall at the Polytechnic School, most recently as an online event.
Image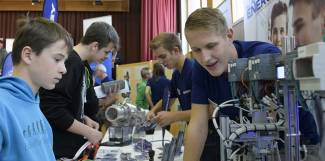 WIGE Montafon
Background
The living and economic area of the Montafon valley is strongly characterized by a unique natural and cultural landscape, by alpine and forestry farming and by tourism, which is one of the most important branches of industry today. Spread over ten communities, a good 17,000 people live in this region and identify strongly with their region. The development of the region is understood as a common task of all people living and working in the valley.
Regional networking is actively promoted by the WIGE association (economic community) and Stand Montafon (association of the ten municipalities) with the aim of counteracting the dramatic outflow of purchasing power, securing jobs and apprenticeships, as well as networking all local companies and creating good framework conditions. If young people decide to take up an apprenticeship outside the valley, they usually also move their later living conditions there and important links in the functioning chain are lost.
Apprentices and skilled workers in the service, trade, craft and tourism sectors are more in demand and sought after in the valley than ever before. Nevertheless, it is becoming increasingly difficult to acquire trainees from the region. Therefore, good networking and cooperation between all companies and actors in a valley and good, coordinated instruments are very important to secure the future of a business location and a region.
Goals
- Showing the variety of available apprenticeship training positions, opportunities and paths. 
- Make attractive and qualified jobs visible and maintain them. 
- Awakening the desire for an apprenticeship in the region. 
- To get to know training companies and to enter into conversation with them. 
- Securing the future of Montafon as a business location.
Description of the measure
Students of the 3rd and 4th grade secondary school (13/14 years), polytechnic school (15/16 years) and vocational higher schools (14 years and older) of the Montafon region are the target groups of the apprenticeship fair.
Implementation
WIGE is regionally anchored and acts as a strong link between companies, apprentices, schools, students, parents and important institutions. The actors take responsibility in the region and develop sustainable projects that are coordinated with each other and only together have a strong impact.
- Apprenticeship fair Montafon
The first fair took place in 2013 at the Cultural Center. Since 2015, it has been held annually on one day in October at the Polytechnic School (30 exhibitors). Various counseling centers (Chamber of Commerce, Vocational Information Center Bifo, AMS Employment Service, aha Vorarlberg Youth Organization) and the Open Youth Work in Montafon are now on board. Two apprentices will take care of the supporting program and moderation. A special highlight and attraction is the raffle. Every young person can participate with a completed stamp pass. The stamps are given after visiting a stand and completing a task.
- LEMOS GOES DIGITAL
2020 the fair presented itself online via the apprenticeship platform LEMO: "Lemos goes digital". Live via the Instagram account @lehremontafon, one could watch specially produced films (15 min. each) from 11 training companies (2500 views on the day). Students had the opportunity to ask questions via the comment function. In addition, expert presentations were organized for the students.
The digital apprenticeship fair is not intended to replace the "real" one in the future, but it could become an effective addition to the "Apprenticeship in Montafon (LEMO)" initiative to make dual training in Montafon more attractive.
- Online apprenticeship platform LEMO (Apprenticeship in Montafon)
In 2018, WIGE published the regional online apprenticeship platform LEMO, which is an important and transparent orientation tool for all students as part of their vocational education. It offers, among other things, an overview of all regional apprenticeship offers and training companies, information and reports about the apprenticeship fair as well as portraits of apprentices.
- Apprenticeship magazine "Lehre Montafon
Twice a year, the regional apprenticeship magazine is published as a print version to all Montafon households and online on the apprenticeship platform. The magazine is published by WIGE and contains regional and national information and reports about dual training as well as portraits and interviews of apprentices and apprentice trainers.
Self-assessment
The future viability of a rural region is based on the retention of young qualified people in their home region. Attractive offers of training and jobs, a good transport infrastructure and a high quality of life, together with good regional instruments, are key factors in retaining local young people. In addition, they also induce qualified people to move to rural regions.
Findings
The close networking and cooperation of all actors in the region is implemented in an exemplary and continuous manner and is constantly being further developed. Through the joint effort, strong signals can be set in the region - especially in the area of dual education - and the Montafon can be secured as a business location.