BeST³ digital - The Vienna Job, Training and Education Fair
BeSt³-fair in Vienna is Austria's largest education fair. It focuses on jobs, studies, trainings and further education. Around 350 exhibitors (NDU is one of them) present their varied offers and answer the questions of the visitors. The comprehensive accompanying program provides insights into innovative educational paths and highlights current trends in the world of work.
Due to the Covid-pandemic, BeSt³  took place virtually in 2021.
A corresponding BeSt fair also takes place in other Austrian regions, for example in two-year intervals alternatively in Innsbruck/Klagenfurt and Salzburg/Graz.
Image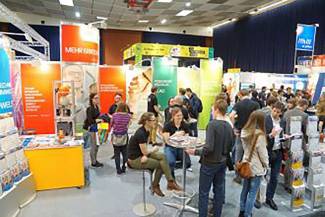 © BeSt³ Wien
Background
The BeSt³- fair has a long tradition. So, it first took place as a study and career information fair in Vienna's Town Hall in 1986. After that, the former Vienna Messepalast served as a venue for some time. In 1996, the fair moved to the Wiener Stadthalle and in the following years received its name BeSt³ - The trade fair for career, study and further education.
Since the beginning, BeSt has been a joint event of the Federal Ministry of Education and Science (currently BMBWF) and the AMS (initially BMAS). That is why the fair is interdepartmental.
Goal
Information and counselling on current career, training and further education opportunities
Target group
Youngsters and students (from upper secondary level on), school classes, parents, teachers and instructors