Lifelong Learning
In order to facilitate the successful university start for lateral entrants or foreign students, preliminary courses were developed.
Higher education courses for professionals were developed to allow young professionals to acquire the skills and knowledge needed for their career, using further qualification as a competitive advantage and promoting lifelong learning.
Image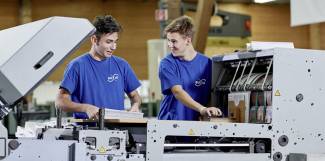 Lustenau, Marcel Hagen
Course 1: What is sustainability?
Design trainings for university applicants who have a creative field of study/ training in mind and want to find out which field of study is suitable for them, and at the same time want to put together a suitable portfolio (application folder).
Course 2: Do you feel like it?
The workshop is addressed to people who strive for a design study program and would like to find out which program is suitable for them. The 2-day course gives orientation support in the choice of pursuing education, allows an outlook of what to expect in a dual study program (pro and contra) and intend to spark interest for design and prototyping.
Course 3: Language tandem
A semester long training for foreign students to improve language skills and encourage intercultural learning. Two or more students of different mother languages are matched together to learn each other's language cooperatively. Through conversation with native speakers, the students acquire initial or advanced language skills in their target language. In addition, intercultural competencies are to be expanded. Depending on the amount of time and willingness, the students have the opportunity to get to know cultural peculiarities, such as manners, customs and social structures of the tandem partner's country of origin.
Course 4: Introduction to Motion Design (2D)
The module provides basic information in the field of motion design and enables participants to apply what they have learned in their design practice. The participants expand their skills and increase their attractiveness on the job market. The module is designed as a two-day workshop including practical tasks (series of short animations to test their knowledge), project-oriented work, frontal instruction, and group work as well as coaching by lecturers.
Course 5: EShip
The participants learn theoretical basics as well as content on the areas of entrepreneurial decision-making and the identification and development of business ideas, in particular the agile innovation method Design Thinking.
The second part of the workshop consists of a "hands-on experience" in which the participants develop their own innovative business ideas in the form of group work and evaluate and analyze them using the Business Model Canvas.
Course 6: User Experience Design
The module provides a basic understanding of user experience design with a focus on the planning and design of websites or other web-based applications.
The acquired methods and tools allow the participants to expand their competencies and to develop new professional fields or to increase their attractiveness on the labor market.