Bildungsmeile Amstetten-Scheibbs
Possibility for students and parents to visit training companies and get insights into different activities.
Image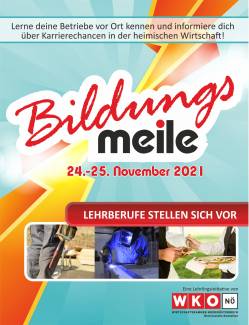 © WK Amstetten
Background
During two days the Economic Chamber Lower Austria and certain partner training companies enable school classes, teenagers and parents to visit the according companies. They get more insights in the tasks, material as well as tools relevant for the professions.
Goal
Getting to know professional fields, teaching companies, relevant areas of activity, materials and tools.
Target group
School classes, students, teachers, parents